I just returned from Tokyo and Kyoto where I took hundreds of photographs and shot about 5 hours of video.  You can access the photo galleries by clicking on the links in the text. First of all the trip was a reunion with my friends from Boston, Shujen Wang and Chris Fujiwara–and their super cute kids, Maya and Ken-Ken, whom I had not seen before (Maya was born right before I moved to Hong Kong and Ken-Ken was born in Tokyo. They are not brother and sister but like to hang out with each other).
Despite the Japanese government warnings about the swine flu pandemic, we all decided to take a tiny risk and meet in Tokyo. Chris actually lives in Tokyo now and had recommended a great inn called Ryokan Sawanyao (near Ueno Station) where we stayed to catch up and explore the city. Chris, Shujen and myself also had to give a talk at the Society for Cinema and Media and were all asked to signs a variety of forms and wear surgical masks anywhere inside the university buildings.
Then a few days into the trip, I met up with Anne Peirson-Smith and Andrew Guthrie (yes the one) and we visited one of the maids cafes near Akihabara. (even though the maids suck in Fujiwara's opinion). Those cafes have a very strict "no photography" policy as they try to sell their own polaroid photographs to customers. The girls are dressed in very beautiful and elaborate uniforms–taking on submissive positions and whimpering with high-pitched voices–but they totally rule the scene and concoct many rules and games for their patrons. These maid cafes are totally non-sexual  and patrons are not allowed to even touch them, though they make great efforts to chat and stimulate their clients by serving food and playing games. The central concept of experiencing this kind of fantasy zone would be expressed by the Japanese word 'moe' –which is a word derived from the 'otaku' culture (geek or nerd culture) and means that one is passionately and happily-deeply involved in activities or hobbies.
One Sunday afternoon we visited the district of Harajuku whare several Cosplayers and fans of Visual Kei had gathered to pay tribute to one of the rock bands and to show off their fantastic alter egos and costumes. We were lucky because it was the birthday of a famous rock star (darn…I forgot his name) and hordes of Cosplayers and rockstar impersonators showed up on the Harajuku bridge. (and here are the photos by Andrew Guthrie)
Then Anne and myself took the bullet train to Kyoto and headed towards the  Superdollfie museum, owned by the company Volks, where we managed to interview two of the curators and took lots of photographs of the famous (and super expensive) ball-jointed dolls and the doll owners. When entering the museum, visitors are greeted by a Madonna statue carrying a doll and surrounded by angels. According  to the curators, the Madonna with child is not a Christian symbol. She is to be seen as a universally benign source of love and power to all people who wish to have a child in the guise of a Superdollfie doll.  (He he… maybe my very last option) . The angels who surround the Madonna are gender-neutral  beings and will later turn into males or females. The doll museum also performs ceremonies in front of the Madonna, in which customers gather and formally receive their brand-new dolls. The dolls can be ordered online or inside the Kyoto "laboratory" store and they are carefully assembles and customized according to a "full choice system."  There are a variety of head molds, limbs, hands, feet, eyeballs and hairstyles for people to choose from so that each customer can create (and endlessly recreate) a perfect doll as "fantasy offspring."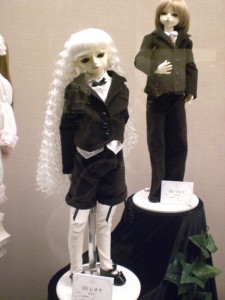 We ended our  visit in the museum garden, where we unpacked our Korean ball-jointed dolls Zaphy and Delphine, , made by the rival company Pullip. We shot a few cosy scenes celebrating the love between Zaphy (male) and Delphine (female). We ended out trip to Kyoto with a visit to the Inari Fox Shrine, which is a must-see for every Japan traveler, normal or otaku alike. We took a few hours climbing the hill and saw hundreds of historical fox statues and wandered through thousands of orange poles forming a unique gate. Moe!